PARTIAL PORTFOLIO SINCE 2001
---
Orchard Hills Center Renovation
Hagerstown, MD
Before
After
---
Frederick Community College Student Services Building 'J'
Frederick, MD
---
Washington County Free Library Renovation & Expansion
Hagerstown, MD
Located at the intersection of Antietam Street and Potomac Street in downtown Hagerstown, the existing building was constructed in 1965 as a high story reinforced concrete structure with mezzanine. The two-year renovation and expansion will more than double the usable area to over 90,000 square feet and add nearly 12,000 square feet to the existing 16,000 square feet foot print.
Most of the existing structure will remain, though some portions will be removed to accomodate architectural features. New construction will envelop the existing building on three sides. Special considerations include a 54'-0" long two-story steel truss, a two-story large diameter circular stair, and foundations designed to minimize differential settlement between the new and existing structures. Compounding the design challenges, geotechnical investigation revealed a highly variable soil profile consistent with Karst topography.
The project is expected to break ground in November 2010 and should be completed by the end of 2012. Project construction costs are estimated at $24 million.
---
American Public University System
Charles Town, West Virginia
The American Public University System Administration Building is a four-story office and educational facility in downtown Charles Town, West Virginia. The building is constructed of concrete floors on steel joists, light gauge metal wall and mansard framing, and structural steel moment frames. Special consideration was given to architectural accents, including the pre-cast concrete arch over the front entrance and the four large clocks in each of the gables.
The site is in close proximity to an active rail line. Geotechnical investigation revealed soft soils. The building is supported on a concrete mat foundation to minimize movement and settlement.
---
FedEx Freight Distribution Center
Hagerstown, MD
Located on MD Route 63 near Interstate 70, this new facility includes a loading dock that spans nearly 1/3 mile with over 300 overhead garage doors; a seven bay truck maintenance shop with structural steel mezzanine; and a 4 aisle fueling pad with canopy. Design aspects include an office area cladded with concrete tilt-up wall panels, specialized concrete slab designs for dock leveling pads, and a foundation designed specifically to resist large uplift and horizontal thrust forces transfered from the metal building frames.
---
Rosewood Commons
Hagerstown, MD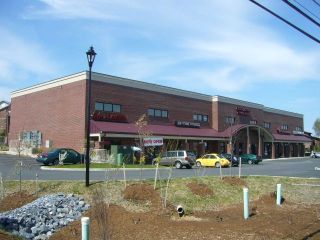 Located on Robinwood Drive, Rosewood Commons makes use of grade to provide ground-level entry for the first floor at the front and the second floor in the rear. Designed as flexible space for retail, current tenants include a drycleaner, restaurants, and a fitness center.
---
Varsity Professional Center
Hagerstown, MD
Located on Robinwood Drive, Varsity Professional Center is a two-story steel framed building with an occupied basement. The Center was completed in 2010 and houses medical office spaces. Regan-Matonak & Associates continuously works with the owner to provide structural modifications as necessary for medical machinery or other tenant requirements.
---
Potomac Walk
Hagerstown, MD
Located in Historic Downtown Hagerstown, Potomac Walk is the realization of a vision to enrich the neighborhood's culture while preserving its historic charm. The design uilized the existing exterior walls while creating a new, volumnous three story interior walkway between Potomac Avenue and an off-street parking facility. The remaining interior space was transformed into modern office space and the popular Bulls & Bears Restaurant.
---
Safford Fiat - Fredericksburg, VA
Safford Chrysler Jeep Dodge Ram - Springfield, VA
Safford Hyundai - Springfield, VA
Sheehy Hyundai - Waldorf, MD
College Park Towers Lobby Renovations -
Safford Fiat - College Park, MD
Salon Nordine & Day Spa - Gainesville, VA
Fountainhead Plaza Expansion - Hagerstown, MD
Hendershots Sporting Goods - Hagerstown, MD
Blue Goose Market - Hancock, MD
Knob Hall Winery, 18th Century Barn Transformation - Clear Spring, MD
Washington County Senior Center - Hagerstown, MD
Criswell Wash-Lube and Used Car - Gaithersburg, MD
Sport Chevrolet Renovation - Silver Spring, MD
Criswell Crysler Jeep Dodge Fiat Renovation - Gaithersburg, MD
Hagerstown YMCA Expansion - Hagerstown, MD
Intelsat Buildings - Hagerstown, MD
Washington County Detention Center Emergency Housing Unit - Hagerstown, MD
Deafnet Association Expansion - Hagerstown - MD
CSX Locomotive Wash and Inspection Station - Cumberland, MD
Greenway Avenue Stadium Grandstand - Cumberland, MD
Criswell Nissan Expansion - Gaithersburg, MD
Williamsport Town Center - Williamsport, MD
Antietam Pediatrics & Adolescent Care - Hagerstown, MD
Duvinage Spiral Staircases - Hagerstown, MD
Aviation Resources - Hagerstown, MD
Washington County Court House Renovation - Hagerstown, MD
Eastern Professional Center - Hagerstown, MD
Mental Health Center, Inc. - Hagerstown, MD
Washington County Sheriff's Patrol Facility Addition - Hagerstown, MD
Hagerstown YMCA New Facility - Hagerstown, MD
Libraries
Clear Spring Library - Clear Spring, MD
Emmittsburg Community Center Library Renovation - MD
Cumberland Library Inspection - MD
Hotels
Aloft Hotel - Winchester, VA
Country Inn & Suites - Hagerstown, MD
Country Inn & Suites - Bel Air, MD
Holiday Inn Express - Hagerstown, MD
Religious Institutions
Saint Paul's Lutheran Church - Funkstown, MD
First Missionary Baptist - Frederick, MD
Paramount Brethren Church - Hagerstown, MD
Maugansville Bible Brethren Church - Maugansville, MD
Saint Mark's Episcopal Church - Boonsboro, MD
Saint Vincent Catholic Church - Berkeley Springs, WV
Zion Lutheran Church - Williamsport, MD
Christ's Reformed Church - Hagerstown, MD
Saint James School - Hagerstown, MD
Kemp Hall Expansion
Wrestling Room Renovation
Dining Facility
Cotton Memorial Gymnasium Renovation
New Gymnasium Connecting Corridor Modifications
Hagerstown Community College - Hagerstown, MD
Student Services Expansion (under construction)
Career Programs
Administration Building Renovation & Addition
Athletic Recreational & Community Center Complex
Technical Innovation Center Addition
Renovation to Brish Hall & Administrative Areas
Stabilization of Career Studies Building
Frederick Community College - Frederick, MD
Science Building Expansion (under construction)
Student Services Building
Administration Building
Frostburg State University for the University of Maryland - College Park, MD
Lane Center Elevator & Bridge Installation
Pullen Hall, Phase II, Renovation
Shepherd College - Shepherdstown, WV
Winchester Hall & Reynolds Hall Additions
Scarborough Library Renovation
Sara Cree Roof Replacement at Gym and Theater
Sara Cree Locker & Shower Room Renovations
Knuitti Hall Elevator
Reynolds Hall Wall Stabilization
Washington County Board of Education - Hagerstown, MD
West City Elementary School (under construction)
Maugansville Elementary School
Salem Elementary School Additions & Renovation
Williamsport Elementary School Addition & Renovation
Clear Spring Elementary School Addition & Renovation
Lincolnshire Elementary School Addition & Renovation
Smithsburg Elementary School Addition & Renovation
Eastern Elementary School New Construction
Frederick County Board of Education - Frederick, MD
Oakdale Elementary School Addition
Walkersville Elementary School
Carroll Manor Elementary School
West Frederick Middle School
Centerville Elementary School New Construction
Tuscarora Elementary School New Construction
Oakdale Elementary School New Construction
Whittier Elementary School New Construction
Deer Crossing Elementary School New Construction
Myersville Elementary School Addition
Garrett County Board of Education - Oakland, MD
Grantsville Elementary School
Northern Garrett Middle School